Investment Planning and Wealth Management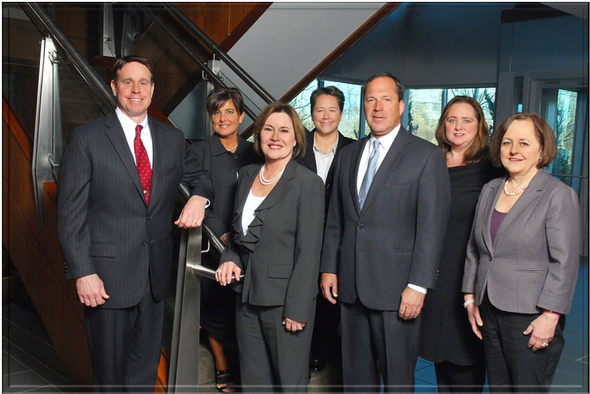 left to right, Gregory Lee, Kelly Pinto, Pam Nottingham, Jennifer Nelson, Bradley Small, Lisa Schumacher, Judy Rich
We help our clients to help build, manage, preserve and transition wealth.
When we speak of wealth, we're referring to comprehensive wealth. Comprehensive wealth is much more than just investments. The four cornerstones of wealth include all aspects of investing in addition to liability management. We address risk management with insurance and other asset protection strategies. We help our clients leave their legacies through our trust, estate and fiduciary services.
We follow a rigorous disciplined process that always begins by listening to our clients. Our clients speak and we learn – we learn about their past experiences, their current situation and their dreams and aspirations.
With the information our clients share with us, we go to work. We study and analyze the information, model and develop various ways to help them achieve their financial objectives.
When we have developed the appropriate strategies, we explain our findings, our recommendations and advice and we do so in plain, simple English – no technical jargon. And when we reach agreement with our clients to implement those strategies we do so in an independent, objective, unbiased and cost-effective manner.
Then we continually monitor and evaluate the plans that have been put in place and we make adjustments whenever necessary – as market conditions change; as changes occur in tax laws and regulations; and as changes occur in the lives of our clients and their families.
We bring our collective education, advanced training and commitment to ongoing professional development to each client relationship. We bring our experience and judgment which we render with great care and skill. We bring the resources of Wells Fargo – a world class financial institution – and the resourcefulness to draw upon fellow experts throughout the firm to help us meet any of our clients' wealth management needs. We bring to each relationship our energy, passion, commitment and dedication to help our clients succeed financially.
We hope you take advantage of this resource and visit us often. Be sure to add our site to your list of "favorites" in your internet browser. We update our information frequently and wouldn't want you to miss any developments in the area of personal finance. Our contact information is located on the right side of this webpage. Please contact us with any questions you might have.
Banking and Lending services available through Wells Fargo Affiliates.
Trust services available through banking and trust affiliates in addition to non-affiliated companies of Wells Fargo Advisors. Wells Fargo Advisors and its affiliates do not provide legal or tax advice. Any estate plan should be reviewed by an attorney who specializes in estate planning and is licensed to practice law in your state.
Insurance products are available through non-bank insurance agency affiliates of Wells Fargo & Company and underwritten by non-affiliated Insurance Companies. Not available in all states.
CAR 0517-00580